Whip out your whips and flog out your floggers because Fifty Shades Freed, the final film in the supposedly thirst-quenching Fifty Shades franchise, has landed in theaters with a whopping 13% on Rotten Tomatoes.
Critics have totally slammed this movie, and not in a sexy BDSM way. According to the professional film watchers, you have to be a real masochist to subject yourself to some more chemistry-free simulated sex. Here are the most hilarious, savage takes.
1. "Whips, chains, butt plugs and nipple clips are nothing compared to the sheer torture of watching this movie."
-Peter Travers, Rolling Stone
2. "Christian, who has all the charm of a textbook narcissistic psychopath, wants to keep Ana to himself, wants her life to 'begin and end' with him and pouts that babies ruin sex. When she declares, 'you're my whole life,' it's presented as a romantic declaration, not a giant red flag of an emotionally abusive relationship. The film might as well be called 'So I Married a Sociopath.'"
-Katie Walsh, The Chicago Tribune
3. "The best that can be said of the whole thing is that there won't be any more."
-Joshua Starnes, ComingSoon.net
4. "Fifty Shades Freed is precisely as atrocious as one might imagine. Which is to say, it is far worse than the first movie—which, though awful, in hindsight looks like Citizen Kane, only with more discussion of dildos."
-Christopher Orr, The Atlantic
5. "If liberation is the endgame of 'Fifty Shades Freed,' most of the time we feel trapped right alongside the characters, immobilized by the pointless, suffocating beauty and the stultifying dramatic inertia of the world James has created for them."
-Justin Chang, Los Angeles Times
6. "Seriously, for a movie that's supposed to be the final stroke in some kind of galactic-level movie orgasm, they sure picked the people least likely to make that happen."
-Anne Cohen, Refinery29
7. "The biggest offender of this movie, beyond the toxic as hell masculinity, is that when it comes down to it, it's just not sexy-and I wanted it to be."
-Princess Weekes, The Mary Sue
8. "If you go to see this movie because you want to watch people have sex, I have this thing I want to tell you about called 'internet pornography.'"
-Matt Singer, ScreenCrush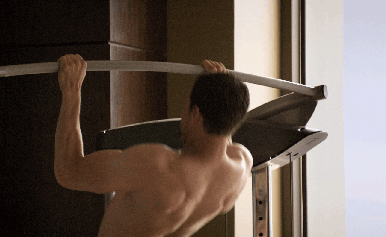 9. "Johnson and Dornan never connect. She rolls her eyes like a cranky teenager. He stares at her like a constipated cow. Even in bed, they act like they're in separate rooms."
10. "Ends with a whimper and multiple bangs."
-Brian Orndorf, Fifty Shades Freed