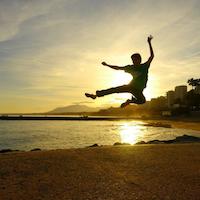 Filed by Mitchell Friedman

|

Apr 04, 2017 @ 3:03pm
Sir Ian McKellen, the iconic actor behind the bearded wizard Gandalf in Lord of the Rings, could have achieved sorcerer Bingo by playing Dumbledore in the third through eighth Harry Potter movies.
If he did, he would have avoided a ton of confusion from casual fans—many of whom just assume he did play Dumbledore. Alas, he did not. The role was originally played by Richard Harris, and by Michael Gambon when Harris passed away in 2002.
In an April interview with BBC's HARDtalk, Ian McKellen explained why he didn't take the role when the producers approached him with the quest.
Apparently the original Dumbledore, Richard Harris, had once mentioned that Ian McKellen—in addition to actors like Derek Jacobi and Kenneth Branagh—were "technically brilliant, but passionless." McKellen called that "nonsense." But it affected his decision when it came to Harry Potter.
(Say what you will, Dumbledore definitely had passion.)
"When they called me up and said would I be interested in being in the Harry Potter films, they didn't say in what part. I worked out what they were thinking, and I couldn't... I couldn't take over the part from an actor who I'd known didn't approve of me."
"You mean you could've been Dumbledore?" clarified interviewer Stephen Sackur.
"Well, sometimes when I see the posters of Mike Gambon, the actor who gloriously plays Dumbledore, I think sometimes it is me," laughed Gandalf.
He's certainly right about the resemblance. Well that, or all older dudes with long white beards and magic powers look the same.