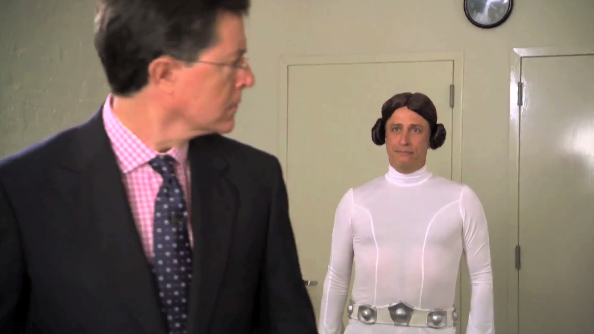 So glad he didn't go with the metal bikini.
So, as you may have heard, J.J. Abrams started this thing called the Star Wars Force for Change which benefits UNICEF, which I think is either a humanitarian effort that provides assistance to families in developing countries or a big pachyderm-like monster that roams the wild plains of the planet Manda'yaim in the Outer Rim Territories of the galaxy. Or maybe it's both, I'm not sure.
Anyway, by contributing to the charity, you're throwing your blast helmet into the ring for a chance to have a minor part in Star Wars: Episode 7, which is maybe gonna be a pretty decent movie. But it will have its work cut out for it if it wants to top this online promo for the charity that Stephen Colbert and Jon Stewart put together for a budget of (I'm guessing) $5.37. Seriously, if you just put this on repeat for two hours, it already beats the Phantom Menace. Though it is lacking for racist stereotypes. But I'm sure they could fix that in post.
(by Dennis DiClaudio)