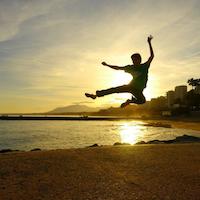 Filed by Mitchell Friedman

|

Nov 21, 2016 @ 9:33am
At some point during Thanksgiving weekend, perhaps around hour 1,000 of family togetherness, you will turn to old movies to help pass the time. At that point, assuming you're as immature and awkward as everyone at Someecards, it's crucial you avoid the following movies for their surprise sex scenes. At the very least, you should know about the most awkward parts in advance so you can plan a bathroom break (or two).
1. Titanic
Let's start slow. You want to watch this PG-13 classic for a 9'0s flashback with the family, and you're perfectly within your rights to do so. Where you need to be careful is during the famous "Leo DiCaprio draws Kate Winslet in the nude" scene, which is awkward and slow and allows the camera to linger gratuitously on Kate's boobs.
Strategy: Avoid eye contact with your mom. Or, do the opposite: make eye contact and wink. Now you're the funny one.
2. Her
Here's a nice family movie about a guy who falls in love with what's essentially the iPhone's Siri function. Because she is a disembodied voice, you're right to think you don't have to worry about much weird nudity. All you have to worry about is the absolutely rabid phone sex between Joaquin Phoenix and Siri.
"How would you touch me?" asks the voice, which proceeds to have a phonegasm to the words "I taste you."
Strategy: Pretend you've gotten a text message on your phone and you're not trying to seduce it.
3. The Wackness
Maybe you decided to watch The Wackness with your family because it stars Nickelodeon star Josh Peck from everyone's favorite white guy buddy comedy for kids, Drake & Josh.
Welp, there's a scene where the aforementioned Josh (again, from Drake & Josh) tries to break his real-life typecasting by "banging a girl in the shower," according to the one person I could find who has actually seen this movie.
Strategy: Ask, loudly, who is responsible for the fact that you're watching The Wackness right now. Keep saying this until someone turns the movie off and calls you an ambulance.
4. Chocolat
You just wanted to watch a PG-13 film about a chocolate shop featuring an award-winning performance by Judi Dench, so you're forgiven for not considering how a movie about chocolate would inevitably get sexy at some point.
According to a hilarious website that provides "movie reviews for parents," a "flashback scene shows a miscellaneous couple in bed having sex (passionate kissing, movement with both alternating being on top and the sight of silhouetted bare breasts)."
Strategy: Pretend you have to poop. Return to the couch with a joke about how you just made your own choc-o-lat. Remember, you're the funny one.
5. Amelie
You probably expected something naughty to go down in this artsy French rom-com, but a couple scenes in particular make this awkward to watch with family—mainly, the montage of orgasms in the video above,
https://www.youtube.com/watch?time_continue=43&v=U9L6R1CYdJA
Strategy: You just remembered you have to run to the store and live there from now on.
6. Along Came Polly
https://www.youtube.com/watch?v=iLHAG97-opw
It is a sad state of affairs when you cannot watch a delightful rom-com starring peak Ben Stiller and Jennifer Aniston without dying of embarrassment, but such is the world in which we live.
According to one Someecards employee, this movie has "a really awkward sexual spanking scene that I watched on an airplane with my dad and wanted to die." A plane will always make it worse.
And here's a bonus warning from "movie reviews for parents," who say: "Various characters have varying degrees of bad attitudes." Do bad attitudes make your family uncomfortable? If so, avoid.
Strategy: Watch Greenberg instead, so everyone can have a nice nap (disclosure: never seen Greenberg, but it seems like a nice movie to sleep through.)
7. Black Swan
This movie's great, and terrifying, and if you can handle all that as a family, you know you'll have plenty to discuss at Thanksgiving dinner.
Unfortunately for family togetherness, there is a very steamy sex scene that features Mila Kunis going down on Natalie Portman. It's a hallucination, sure, but it's still very much happening on your TV screen.
Strategy: Make a joke about how this would be a good time for everyone to watch you practice the dab, and then dab for a full two minutes.