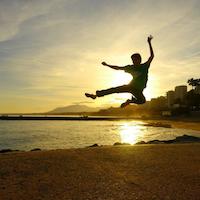 Filed by Mitchell Friedman

|

Apr 26, 2016 @ 6:50pm
When you binged Lemony Snicket's A Series of Unfortunate Events in 1999, did you picture the iconic villain to have the face of Neil Patrick Harris? No, you pictured this guy:
That's not Neil Patrick Harris. It can't be. Because it's so perfectly Count Olaf.
This is Neil Patrick Harris.
And this is Count Olaf.
And yet, somehow, you're to believe they're the same person.
What a filthy shirt.
Netflix has apparently started production for the new series, which they reportedly signed onto in November 2014 for a projected 13 episodes. This is the first foray onto the screen for Olaf and the three Baudelaire orphans, though:
Carrey's version has a respectable 72% on Rotten Tomatoes, but the new series will hopefully have a better chance at capturing details from all 13 beloved novels than did the feature film. If NPH is adding "scary villain" to his resume, does that now make him a quadruple threat?