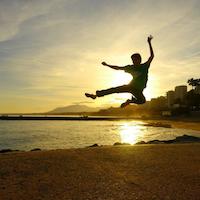 Filed by Mitchell Friedman

|

Mar 09, 2017 @ 8:25am
Did you know Samuel L. Jackson's been in every movie ever? Revisiting a running sketch made famous by the Tom Hanks version, James Corden and Samuel L. Jackson took us through nearly the entire career of the Pulp Fiction actor, and it really gives Kong Island a lot to live up to. Because Die Hard with a Vengeance is a classic.
But seriously, Samuel L. Jackson's been in a lot of movies, and in the first handful he starred alongside a smoking gun. As the career goes on, Samuel L. Jackson puts down the firearm and picks up a lightsaber, starts to show off his singing voice, and insults James Corden for having zero shot at a Tarantino cameo. The dramatic monologue remains a staple throughout. There's something for everyone, because the man acts. A lot.