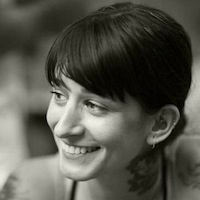 Filed by Jessie Dean Altman

|

Feb 09, 2016 @ 9:46am
Sarah Ingle from Denver, CO, has spent more than $14,000 on Disney princess costumes, including Snow White, Belle from Beauty and the Beast, Cinderella, Rapunzel, Merida from Brave, Ariel from The Little Mermaid, and sisters Elsa and Anna from Frozen.
Ingle currently has 16 wigs and 17 princess outfits in her princess costume stable. But don't worry (too much), she's not doing this just for fun. Ingle started a company with her boyfriend called Princess Ever After, where she hires herself (and now a few other princess impersonators) out for about $145 to sing at special events like kids' parties and adults-who-wish-they-were-still-kids' parties. Sometimes her boyfriend goes along, dressed like a prince (they say romance is dead).