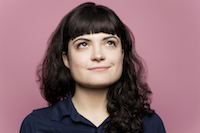 Filed by Jaime Lutz

|

Dec 18, 2015 @ 5:50pm
Did you know that Harrison Ford circa 1977 is factually the most handsome man to ever live? Luckily for America and the world, he has aged excellently (his propensity for wearing dumb earrings aside), along with his fellow Star Wars stars Mark Hamill and Carrie Fisher. Sure, trolls can (and do) find unflattering photos of them all the time, but people who have seen the new Star Wars can attest that all of them look great.
But what if you don't want to see the new film, but you still want to see what Luke Skywalker is looking like these days? You've come to the right page on the Internet! Here are the three main stars of the original Star Wars trilogy, with photos of how they looked during the original trilogy alongside photos of them today.