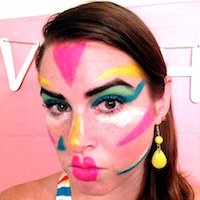 Filed by Ashley Bez

|

Aug 23, 2015 @ 12:56pm
It's horror movie about getting stuck in a horror movie.
WARNING: after watching the trailer for The Final Girls you will want to immediately watch/be in the movie. It's about a girl, Max (Taissa Farmiga), whose deceased mom (Malik Akerman) was the star of the horror film "Camp Bloodbath" when she was alive. Max goes to a screening of "Camp Bloodbath" with her friends, and they all end up inside the movie, fighting for their lives alongside the characters.