Great bands from yesteryear reunite all the time for a variety of reasons, from needing money for drugs and rent, to needing money for a liver transplant and aftercare. Most of the time, reunited bands are harmless fun. The musicians are able to make a few bucks doing what they love, while TMZ  is prevented from doing a story about a rock legend forced to stock shelves at Big Lot to make ends meet.
Everybody has a right to make a living, and most people with an opportunity to make money playing music would jump at the chance. However, as a music fan, I have a right to spout off like a tool about how living legends should run their business.  With that, I present five groups that should not put the band back together.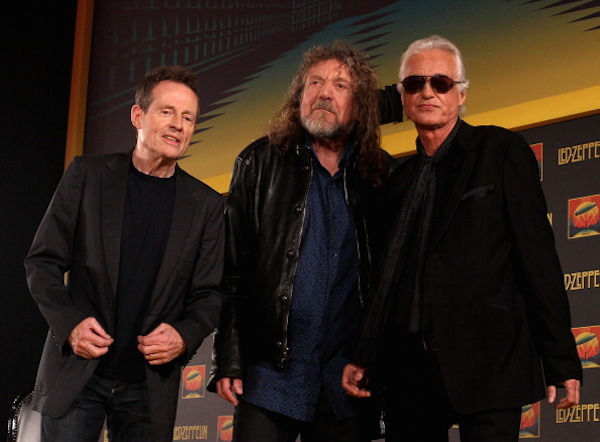 Lock up your grandmothers, Zeppelin is in town. (via)
5. Led Zeppelin
Led Zeppelin were such an incredible rock band that people will never stop talking about them reuniting as long as two of the original members are still breathing under their own power. Zep's run of greatness was at a time when rock stars were still mysterious figures who lived in castles and reportedly did things with groupies that would be considered illegal today. Probably back then as well, it was just a lot easier to get away with it. Besides the music, all the average fan knew about Jimmy Page was that he lived in a castle and consumed drugs and alcohol the way you would expect from a guy wearing a dragon suit. Robert Plant was a rock god who possessed a head of hair that Samson would envy, and a dick that could not be contained by the strongest denim available at the time.
That was the mid-seventies. In 2014, when Robert Plant requests to have his "lemon squeezed," he's probably talking to a waiter about the cup of warm water he uses to take his Lipitor. And anyone "shaking him all night long" is most likely trying to get him to stop snoring.
The first Zeppelin reunion was at Live AID in 1985 and it was famously brutal. When the best thing about your set is an appearance by Phil Collins, it's not your night. And that was a hundred years ago in rock star age.
They left one of the greatest legacies in music, and their songs weren't easy to sing when Plant was in his prime.  At this point in their lives, any juice running down their legs should be from a coconut drink on a beach in Bermuda.
.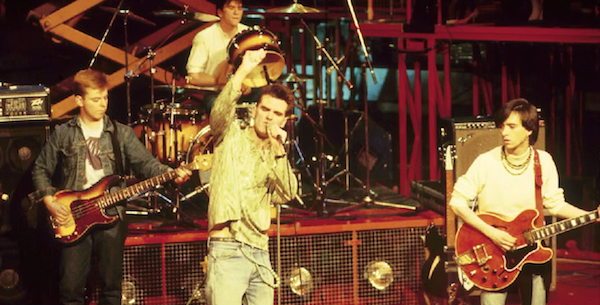 How soon is never? (via)
4. The Smiths
The Smiths were so unique, if their debut was released tomorrow, people would still hear it and say "Wow." Followed by "What the fuck is wrong with that dude? I want to like this, but I"m afraid doing so will eventually lead to me taking my own life."
You've got to hand it to both Morrissey and Johnny Marr, because neither of them has budged from their no reunion stance despite the fact that they're asked about it in every interview they've given since they broke up. The only exception being when Morrissey's people warn the interviewer ahead of time that if the The Smiths are mentioned, Moz will storm off dramatically after throwing hot tea in their face.
A Smiths reunion is a seemingly great idea that in reality would be so depressing it might actually make Smiths fans happy, sending them into a tailspin they might never recover from. I wouldn't want to see a Smiths reunion show for the same reason I wouldn't pay for a lap dance from a crying stripper. It's hard to enjoy a performance when you know the artist doesn't want to be there, but are willing to take your money because they have less respect for you than they do for themselves.
.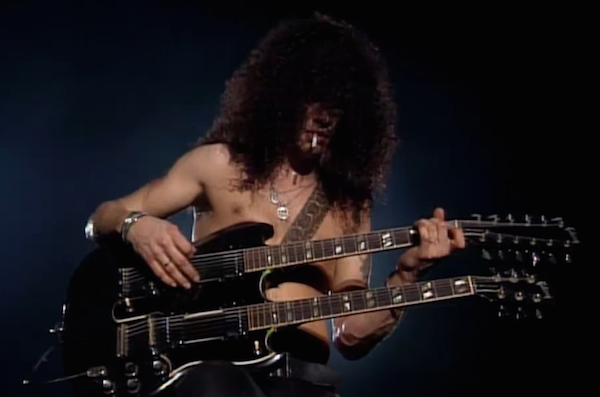 Slash's driver's license photo. (via)
3. Guns N' Roses
You might be thinking, "Wait, Guns N' Roses is still a band." True, they are technically still a band, the same way that Pringles are technically potato chips. But when only one out of five of the original musicians is left, that's not so much a band as it is a guy refusing to admit he has a problem. In the case of Guns N' Roses, that guy is Axl Rose, whose current band should be called Hired Guns and a Guy Named Rose.
GNR began its slow death march when they appeared at the 2002 MTV Music Awards with a guitar player wearing a KFC bucket on his head, and Axl Rose looking and sounding like he'd just emptied that bucket before taking the stage. Instead of the crowd going wild to hear "Welcome to the Jungle," they spent five minutes trying to figure out who these people were that were calling themselves GnR, because no one looked familiar except the singer, and only because he resembled the frontman of The Offspring.
Any hope that the badass who snake-charmed his way into the heart of music fans back in the eighties was dashed when the new Guns took the stage for Neil Young's Bridge School Benefit back in 2012. Not because Axl sounded bad, which he did. But because he showed up on time for both shows. Not cool, dude.
.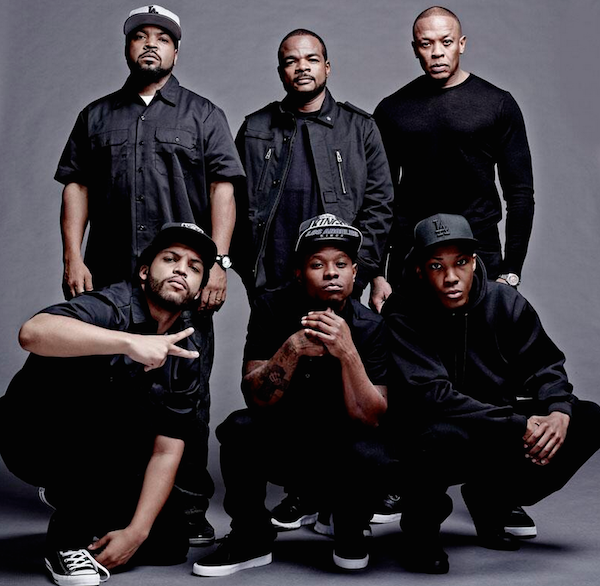 NWA (top row), SAG (bottom row). (via)
2. NWA
"Straight outta Compton, a mainstream entertainer named Ice Cube, from a band that I can't even type the name of without fear of being fired" doesn't have nearly the punch of the original music. That's why the guy from 22 Jump Street and Dr. Dre, the world's coolest billionaire, are better off letting the group's legacy speak for itself.
Everything about NWA was controversial. Even the casting call for the upcoming NWA biopic made people angry. Two decades later, however, no one needs to see wealthy family men rap about drinking 40s and gang life before boarding a jet to a tour stop in Tokyo.
Worse than the idea of watching the "world's most dangerous band" on a tour sponsored by Kia, is the thought of 40-something year-old white guys sipping wine in luxury boxes at the Hollywood Bowl while mouthing the words to "Fuck tha Police." 
.

Time to change the musical landscape. (via)
1. The Brady Six
The year was 1973. Weary Americans, in desperate need of relief from Watergate, the Vietnam War, and Godspell, found it in the form of six teens with voices of hired, professional singers and choreography as loose as the fashion of the time. The music of the Brady Six never made the Billboard charts when it was released, but it quickly shot to the top of America's heart with a bullet.
Unfortunately, ever since that magical time they've attempted to cash in on the band's rich legacy with diminishing returns, from the Brady Bunch Variety Hour to My Fair Brady. Five out of the original six members recently appeared on The Talk, which had a lot of fans thinking the band might be gearing up for one more run.
Oddly enough, one thing preventing the Brady Six from further tarnishing their legacy is the success of the oldest member's musical variety show in Branson, Missouri, which, 70sBarryWilliamsShow.com calls "an incredible, nonstop, two-hour thrill ride."
Good for him. He's doing what he loves without compromising the legacy of one of America's most beloved bands. It's certainly a better way to make a buck than by getting your ass beat by Danny Bonaduce.
(by Jonathan Corbett)