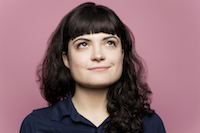 Filed by Jaime Lutz

|

Mar 14, 2016 @ 4:50pm
Singer and lovely human being Adele invited a 12-year-old British girl, Emily Tammam, with autism and other medical problems to sing "Someone Like You" onstage with her last week. Emily also had a message for people with disabilities. Finally, a news story that you really have to try to be cynical about.
According to the Manchester Evening News, Emily Tammam—who has autism, ADHD, and Ehlers-Danlos syndrome type three—was holding a sign that said "It is my dream to sing with Adele" during the concert. Adele noticed the sign at the end of her set and invited Tammam up on stage with her. "Adele is her favorite singer and 'Someone Like You' is her favorite song," said Ray Tammam, her father, to the newspaper. "She has a constant struggle with social situations, but amazingly, she manages to sing in public. She has a different persona when she is onstage."