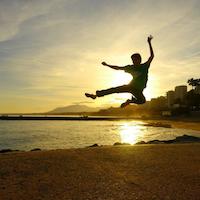 Filed by Mitchell Friedman

|

May 31, 2016 @ 5:25pm
At a music festival in Toronto, a DJ by the name of KSHMR provided plenty of evidence for any hater who says live electronic music isn't really 'live' music. KSHMR rocked out—"smashing it out there," in the words of the cameraman— for at least a good 30 seconds before he presumably finally realized his music had stopped for the rest of the audience.
When you've got your headphones in but have no idea that the speakers are off. KSHMR going hard in silence at Echo Beach last Sunday.

Posted by Toronto Rave Community on Sunday, May 29, 2016
KSHMR just kept listening to the sweet beatz in his earphones, blissfully unaware of the crowd's (silent) experience. Silent besides the chant, "Let's go raptors!" that is. The NBA playoffs were apparently all the crowd could unite around in the absence of sick beatz. Drake would be proud.