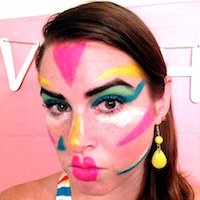 Filed by Ashley Bez

|

Sep 10, 2015 @ 4:30pm
Real friends play guitar together. The same guitar. At the same time.
In order to record their cover of Eminem's 2000 breakout single "The Real Slim Shady," Laurier Lachance and Mathieu Paquin wore matching outfits, shared a guitar, and kept very stoic facial expressions. They also recorded it in one take. I wonder how many times that had to sit all smashed up against each other before they got it perfect? Did they have the karaoke lyrics next to the camera, or is the song burned into their souls? Are they regular Canadian or French Canadian? Why is this video so hypnotizing?