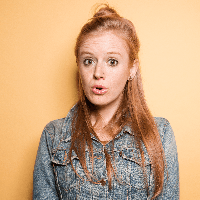 Filed by may wilkerson

|

May 01, 2017 @ 2:20pm
Good news and bad news: a festival most of us couldn't afford to go to even if we wanted to went very, very badly last week. What happened? Well, "people showed up" and the now-infamous Fyre Festival, hosted by Ja Rule, apparently wasn't quite equipped to handle, well, people.
In a scathing op-ed in New York Magazine, a former festival organizer describes getting a "front row seat to chaos" at a festival "run by bros" who "ignored every warning sign they were given." Thank you Chloe Gordon, who "briefly" worked as a talent producer for the gig, for sharing what really happened behind the gory scenes.
She first paints a bleak picture of the festival site upon her arrival in mid-March:
This was not a model-filled private cay that was owned by Pablo Escobar. This was a development lot covered in gravel with a few tractors scattered around. There was not enough space to build all the tents and green rooms they would need. There was not a long, beautiful beach populated by swimming pigs. There were, however, a lot of sand flies that left me looking like I had smallpox. Still, I had hope.
SPOILER: That hope disappeared quickly.
Gordon's "extremely well paid" job, she explains, was to coordinate travel and on-site logistics with the artists who would be performing in the festival. These included illustrious, relevant bands like Blink 182, Major Lazer, and Disclosure.
She says the production team was "all new hires" and that when they arrived, literally nothing had been done to prepare. She writes:
Festival vendors weren't in place, no stage had been rented, transportation had not been arranged. Frankly, we were standing on an empty gravel pit and no one had any idea how we were going to build a festival village from scratch.
Nightmare, right?
Things just got worse from there. Festival founder Ja Rule, who has since apologized for the fiasco, calling it "NOT MY FAULT" (ok, that's technically not an apology), apparently wasn't much help. "Ja Rule arrived for a 'site visit,'" Gordon writes. "I don't know if he actually visited the 'site' but he did spend a lot of time on a yacht, according to his Instagram."
She also says that the rapper at one point gave a toast "to living like movie stars, partying like rock stars, and fucking like porn stars." She added: "If Ja Rule is punished for anything perhaps it should be that."
Then on Day 3, "things really started to fall apart."
Gordon writes:
On Friday, lots of people on the production team got fired. I did not get fired. I did get a phone call that same night that said something along the lines of, "Congratulations, the guys will allow you to continue to work on the festival! For two thirds of what you asked for. And we're not paying the artists yet." So with that, I quit. I told the tour managers I had been in contact with that I was going to take myself off the project. And then I flew back to New York and waited eagerly for six weeks to see how Fyre Festival would play out.
It did not play out well.
Festival attendees arrived at the luxury event, designer bags in hand (or maybe someone was hired to carry them), expecting luxury. They instead found this:
At least no one got hurt or died during their time on the island, according to a statement from Ja Rule. And everyone got a refund on their $1K to $125K tickets. But still, the damage is done.
Gordon ended her op-ed with this last piece of glorious shade:
I cannot explain how or why the bros running this festival ignored every warning sign they were given along the way. The writing was on the wall. I saw it firsthand six weeks ago. They overlooked so many very basic things. And baby, they forgot to make me sign an NDA.
Fyre Festival just got burned (again).