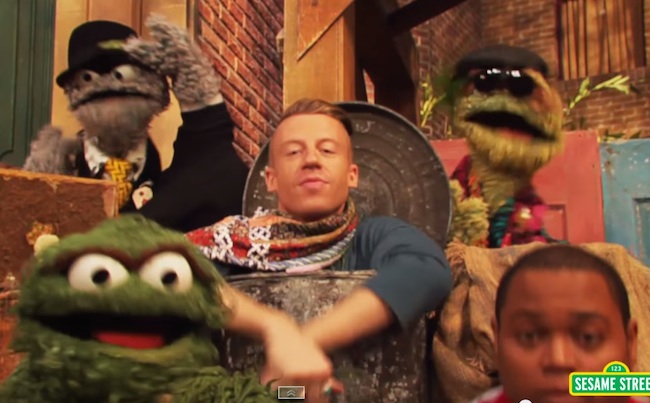 Can you tell me how to avoid Sesame Street?
Parents, if one of your kids is suddenly sporting paper bag shorts, a banana peel hat, and slippers fashioned from old juice boxes, don't worry; it may not be a psychotic episode brought on by them discovering your stash of weed edibles. It could be they've just watched this clip of Macklemore on Sesame Street with Oscar the Grouch doing a version of his hit "Thrift Shop," reworked to promote the trashy lifestyle. Literally. He's singing about wearing clothes found in a garbage can.
Times are tough, and not every family can afford to shop at Gap Kids, but is a lesson in dumpster diving from guy wearing a jacket made from floor mats the answer?
"Wouldn't you like to rock a fish on your noodle?" No! No matter how bad you have it, wearing a dead fish on your head is a terrible idea.

You'd like to think Sesame Street would have a more solutions-based approach to the problem of affordable clothing for children. Even Cookie Monster has learned to control his impulses to a degree, and now usually works in a line or two about portion control before inhaling cookies.
Maybe it's time to rethink the idea of kids getting advice from a guy who lives in a garbage can. Or, at the very least, get the grouchy monster some therapy or meds.