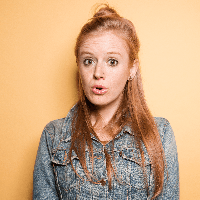 Filed by may wilkerson

|

May 15, 2017 @ 3:20pm
Snoop Dogg had a sign language interpreter at a recent concert at the Jazz Fest in New Orleans. But one might argue that the interpreter WAS the show, and everyone else, including Snoop Dogg himself, were just background noise.
The interpreter, named Holly Maniatty, went way and above her job description in translating Snoop's set for the hearing impaired. She gave it %110 and her performance was so captivating, the video went viral.
Just watch:
I didn't know which one to watch @snoopdogg or the #interpreter 🙌🏼 #JazzFest #neworleans @tglradioshow #TheGoodLifeRadioShow @wbok1230 www.tglradioshow.com To use this video in a commercial player or in broadcasts, please email licensing@storyful.com

Posted by The Good Life Radio Show on Saturday, May 6, 2017
The video has been shared over 250,000 times on Facebook, and all anyone wants to talk about is the interpreter:
As this lady pointed out, being an interpreter is not an easy job. But this woman went above and beyond.
It's especially moving when you think about what her performance means for the hearing-impaired.
The performance is going viral over on Twitter, too. Because it's obv too good for just one platform!
Let's hope Snoop's ego is not bruised by all this attention being paid to this woman. JK, knowing Snoop Dogg (and we know him well), it seems highly unlikely he would have anything but high praise for her performance.