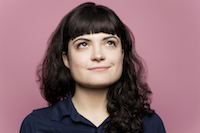 Filed by Jaime Lutz

|

Oct 03, 2016 @ 12:49pm
Being an actress in Hollywood seems really, really hard. But hey, at least studio execs aren't pumping young actresses with drugs anymore. (Seriously, it's a joke in this SNL sketch, but it's not that far from the truth.) SNL took on the topic of women in Hollywood with an "Actress Round Table" that features the weirdest Kate McKinnon performance since last year's "Alien Abduction" sketch.
I could honestly listen to McKinnon say, "Little Peter No No" all day.