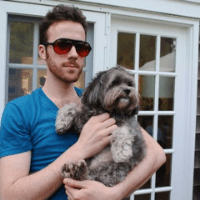 Filed by Miles Klee

|

May 20, 2017 @ 2:48pm
Four months into the disastrous presidency of Donald J. Trump, every American with an ounce of common sense is wondering the same thing: What will it take for the last few people who support this demagogue to turn on him?
After a long week of crazy White House news, this question was clearly on Anderson Cooper's mind as well. The CNN anchor was talking with Jeffrey Lord, a political commentator the cable news channel pays to be a pro-Trump voice on various shows, and Lord was—of course—defending Trump's impulsive decision to divulge classified intelligence to Russian diplomats. A clearly exasperated Cooper had to interrupt: "If he took a dump on his desk, you'd defend it," he said.
Not sure if that's peak Anderson Cooper, or peak Jeffrey Lord. Maybe both. But it's clearly a historic moment.

— Andrew Coyne (@acoyne) May 20, 2017
Sadly, Cooper went on to (unnecessarily) apologize—both on the air and in a follow-up tweet. C'mon, Anderson! Stick to your principles!
I regret the crude sentence i spoke earlier tonight and followed it up by apologizing on air. It was unprofessional. I am genuinely sorry.

— Anderson Cooper (@andersoncooper) May 20, 2017
Besides, this is a distraction from the real problem: That CNN and other channels are enabling people like Jeffrey Lord to defend Trump's behavior.
Not necessary. No need to apologize for scolding Jeffrey Lord. If you want to apologize, apologize for enabling him by having him on so much https://t.co/vrrWlIFPHr

— Angelo Carusone (@GoAngelo) May 20, 2017
@andersoncooper @brianstelter CNN should probably stop paying people like Jeffrey Lord to defend everything Trump does without question. It doesn't inform anyone.

— Parker Molloy (@ParkerMolloy) May 20, 2017
@anildash @andersoncooper Or mocking a handicapped reporter, bashing a gold star family, downplaying a Vietnam POW's captivity, accusing his predecessor of a felony

— Robert Maguire (@RobertMaguire_) May 20, 2017
Anyway, hang in there, Coop. This crap is far from over.