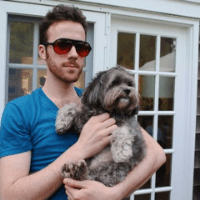 Filed by Miles Klee

|

Jan 22, 2017 @ 1:17pm
Aziz Ansari on SNL last night had the unenviable task of trying to cheer up a country reeling from the dystopian inauguration of President Trump the day before—and he nailed it. First jabbing Trump for his slavish devotion to trashing the show every week, he noted that it was "pretty cool that he's probably at home watching a brown guy make fun of him right now."
From there, he shouted out Saturday's #WomensMarch, then picked apart the culture of xenophobia at large, from overexcited Trump voters who need to go back to pretending they're not racist, to the idea that minorities like he and Beyoncé are going to "move back" to countries they never lived in, to the media's obsession with scary Muslims (and that creepy exotic music that plays for the bad guys in Homeland.) All in all, he instilled some much-needed optimism for the days and months ahead.