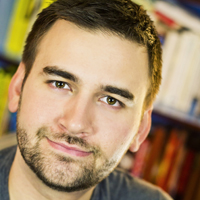 Filed by Dan Wilbur

|

Sep 28, 2015 @ 5:30pm
The bacon-loving child from the show Wife Swap who once uttered the words "I keep losing at deals" is now a life-sized teenager who wants you to know he still loves bacon and also other things. In what likely serves as his announcement video for a 2016 presidential run, 14-year-old "King" Curtis Holland reintroduces himself to the world by telling us that he loves hunting, four-wheelers, cars, and... you guessed it: bacon.
Not only does he still love bacon, but he's trying to get his name on his very own brand of bacon, as soon as he has the cash from a TV show based around his life that he's apparently been shopping around to execs. The show, I'm guessing, would follow him as he rambles about bacon, drives without a license, and realizes being angry at his parents isn't as cute as it was when he was younger.