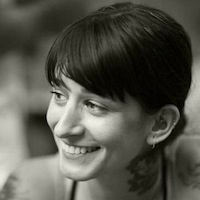 Filed by Jessie Dean Altman

|

Nov 08, 2016 @ 8:29am
Okay, folks, this is it, today's the big day—time to vote. And to steer you in the right direction, on Monday night's Late Late Show, Brit Benedict "Not a U.S. Citizen" Cumberbatch read his "son," Brit James "Also Can't Vote" Corden, a terrifying bedtime story about this year's election. Too bad these guys can't vote, because I like the way they think.
The story might be too scary for a child's bedtime until we finally do find out the end—whether or not the Lady in the Beige Pantsuit gets through the scary Computer Forest and defeats the big Orange Monster with a very, very big head and very, very tiny wisdom (and hands).