The best dragon-free scene in the most recent episode of Game of Thrones, "The Spoils of War," is undoubtedly the match between two of Westeros's finest fighters: Arya Stark and Brienne of Tarth.
While we were focused on Arya kicking ass, Redditor GrennsGal thinks she might have spotted the ghost of Catelyn Stark make a cameo in the background just as Arya uttered the word "mother."
"You swore to serve both my mother's daughters," Arya told Brienne, evoking the vow Brienne made to Catelyn before Mama Stark was murdered when the Lannisters sent their regards to the Red Wedding.
GrennsGal writes:
at the word MOTHER you can see a woman in a long green dress w/ long auburn wavy hair with her head down walking past the background gate, resembling Cat.

If it's unintentional, it's awesome. If not, more awesome. Catelyn [checking] on Brienne keeping her vows.. :))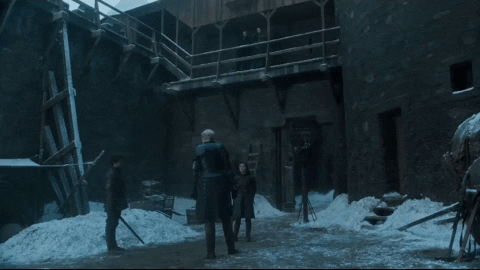 Now let's pause and up the brightness (this show is just so damn dark, eh?).
Watch it happen at 0:12.
Fans note that nobody just wanders on set by accident. Plus, the mystery woman has SIMILAR POSTURE to Michelle Fairley, the actress who played Catelyn Stark.
While this might seem like a reach and a half, the theory is bolstered by a plot in George R.R. Martin's A Song of Ice and Fire books.
In the original novels, Catelyn Stark is brought back to life by a Red Priest and as a zombie, takes on the name Lady Stoneheart. Zombie Cat then travels with Brienne and Podrick, and exacts revenge on House Frey for the Red Wedding, a task fulfilled by Arya in the show.
Martin was famously disappointed when Lady Stoneheart was cut from the show. So if this moment doesn't hint at Lady Stoneheart's television debut, it could be a nice Easter egg for Martin and the book readers.
While a lot of fans are freaking out, some aren't so convinced.
But who knows, huxtiblejones? Catelyn Stark's *nephew* Jon Snow was brought back to life. And you know what they say on the Iron Islands: