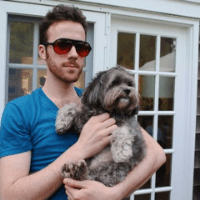 Filed by Miles Klee

|

Nov 04, 2016 @ 1:22pm
It's been 10 years since the end of Dave Chappelle's iconic Chappelle's Show, which proved a heartbreaking loss for fans and Comedy Central alike. But at long last, it appears we'll get to see the beloved comedian back in sketch mode: Chappelle is set to host Saturday Night Live on Nov. 12, which also happens to be the first episode of the series following Election Day on Nov. 8. A Tribe Called Quest will join him as the musical guest.
You know how people have been griping about 2016 all year? Well, now it doesn't seem so bad, does it. People are very happy about this.
I usually don't watch SNL but when you bring Dave Chapelle and ATCQ you got my attention

— Σhaka Zulu (@ZuluPeabody) November 4, 2016
Chapelle is one of the reasons i do what i do. he's a god. he's one of the most important men in comedy and entertainment and life. period.

— Jasmeet (@JusReign) November 4, 2016
The Cubs win the World Series and Chappelle is hosting SNL. 2016 is trying to make a late game comeback.

— Jon Sanderson (@jonsanderson5) November 4, 2016
If Dave Chappelle dont bring out Wayne Brady out for a skit on SNL it aint lit

— Vinny the Producer (@VinnyFuego) November 4, 2016
Dave Chappelle is hosting @nbcsnl on Nov 12, with A Tribe Called Quest as musical guest.

This will be the greatest SNL episode of all time.

— Denizcan James (@MrFilmkritik) November 4, 2016
That Chappelle has never hosted SNL before seems to have only raised expectations, so go ahead and get hyped. And if you miss this, don't count on having many conversations that Sunday.