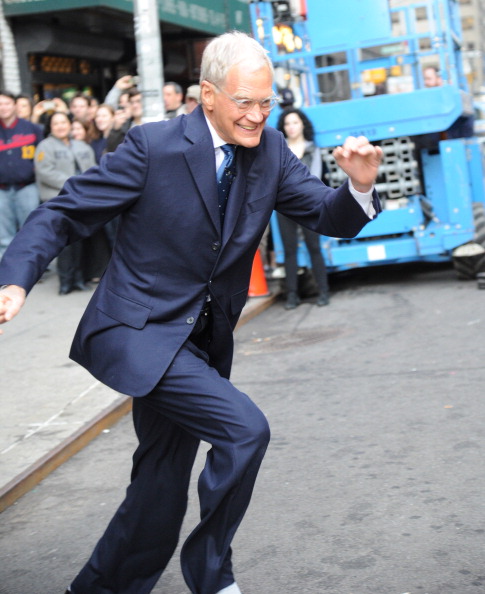 Dave, taking off. (Getty)
David Letterman announced today that he's calling it quits after 30 years behind the late night desk. He's going to step down in 2015, and while he's not exactly going out on top, he should always be remembered as the guy who redefined what late night comedy could be, and for paving the way for every snarky white guy that followed him.
Dave and CBS were scooped on their big announcement by Late Show guest, former REM bassist Mike Mills, who sent out the following tweet this afternoon.
Dave just announced his retirement #2015 #muchlovedave

— Mike Mills (@m_millsey) April 3, 2014
The fact that he was beaten to the punch about his own retirement by a social media app that he's probably never seen firsthand is a pretty good indication that it's time for Dave to shuffle off.
So who's going to replace him? Hopefully no one. But since that's unlikely, here's a top ten list of contenders in order of probability:
10. Carson Daly 
 9. Psy
 8. Stone Cold Steve Austin
 7. Craig Ferguson
 6. Grumpy Cat
 5. 50 Cent
 4. An iPad that reads Tweets
 3. Skrillex
 2. Louis CK
 1. Chelsea Handler
CBS big wig Les Moonves released a statement saying "When Dave decided on a one-year extension for his most recent contract, we knew this day was getting closer, but that doesn't make the moment any less poignant for us." Much less poignant is the fact that Dave seemed to stop caring about a decade ago. But hopefully he's still got enough left in the tank to rev up the engine for one last push to remind everybody why he's a late night legend.
(by Jonathan Corbett)