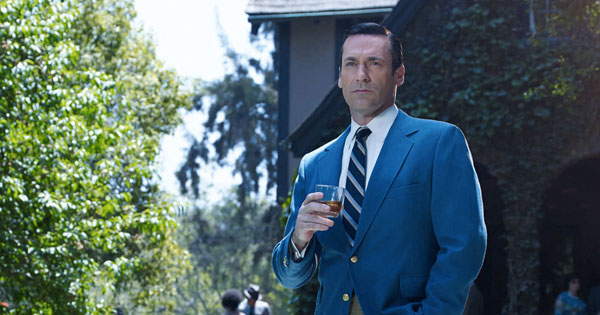 Blue blazer and tie? Does that mean Don Draper is becoming a Democrat?
Hey, everybody! Let's read way too much into this brand new cryptic teaser trailer for the upcoming final episodes of Mad Men:
It has been posited on various places around the Internet that this teaser hints that final half-season of the show—which returns to AMC on April 5—will jump ahead from where we left off in 1969 to 1976. Yeah, nineteen hundred and seventy-six! The reasons for that theory I'll explain in a moment, but first I'd like to tell you why it's absolutely crazy:
Six years would be, by far, the biggest leap in time the show has ever taken. The biggest jump so far has been fifteen months, between the first and second seasons.
The show's creator Matthew Weiner is notoriously insane about hiding details of upcoming episodes. He makes critics sign agreements barring them from discussing all but the most boring and meaningless aspects of their screener copies ahead of the official air date. Is he really going to drop a bombshell revelation like this into a teaser trailer released online more than a month before the half-season premiere?
We know that Sally Draper Sally Draper turned 11 during Season 4, which ended in 1965. So, in 1976, she'd have to be at least 21. Kiernan Shipka, the actress who plays her, is currently 15. Are they really going to have her play a character six years her senior?
Okay, that said, it actually does kind of look like the show will take place at least partially in 1976. Here's why:
The song playing over this trailer is Diana Ross' "Love Hangover," which was recorded in 1975 and released in 1976. The show has never used anachronistic music in the past. It's pretty detail-oriented.
Also this:


And this:





And finally this:

Now, I'm no fashionologist, so I might be totally off base here, but that sure looks like some '70s-era costume, hair and make-up design to me. Just look at Pete's hairline. Was it nearly that bad the last time we saw him?
Regardless of where Weiner and his team of highly talented writers decide to take us, I'm sure I'll be fine with it. After seven-and-a-half near-flawless seasons, I've come to give them the benefit of the doubt.
I just hope that they'll be able to nail Mad Men in the '70s as well as this sketch did way back in 2011: