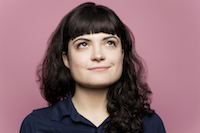 Filed by Jaime Lutz

|

Feb 09, 2016 @ 10:10am
Steve Harvey, the host of Family Feud, has seen a lot of dumb answers over the years (and certainly has had some dumb moments himself), but this one may be the most elaborately wrong answer ever. The query: "Tell me another way people say 'mother.'" The first two answers on the board: "Mom/Mommy" and "Mama"—come easily. After that: not so much.
Oh mother... | Family Feud

Steve called this jaw dropping moment from Family Feud "The greatest television that won't be seen." Is it the worst answer ever? Judge for yourself... Episode airs Feb 23! Go to FamilyFeud.com to check your local listings. #FamilyFeud #FeudHighlight #SteveHarvey

Posted by Family Feud on Monday, February 8, 2016
In this woman's defense, "Mami" is a totally different word than "Mommy;" same with "Nana" and "Nanny" and "Nani." (And hell, it's not like "Mama" is so different than "Mommy.") Every word for "mother" sounds the same, so maybe this is just a bad Family Feud question?