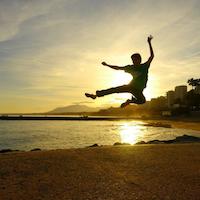 Filed by Mitchell Friedman

|

Apr 26, 2017 @ 8:18am
A Fox News host by the name of Jesse Watters is in hot water on Twitter on Wednesday, after a comment so outrageously sexist it even stands out on Fox News. If you're worried the clip below lacks context, you can watch the full clip at the bottom of this article (hint: it doesn't lack context).
Jesse Watters, commenting on Ivanka Trump's booing by a crowd in Germany, offered the commentary: "I don't really get what's going on here. But, uh, I really liked how she was speaking into that microphone."
Disgusting, and even more outrageous when you consider how he began his rant: "It's funny the left says they really respect women and then when given the opportunity to respect a woman they boo and hiss."
Yes, Jesse Watters, tell "the left" how to respect women.
@yashar Did you notice the little hand gesture? When he said it? Its kind of subtle but it's there 🙄😒

— Dannie (@dannievintage_) April 26, 2017
If the name Jesse Watters sounds familiar to you, it's for this insanely offensive Chinatown segment he did last year as a correspondent for Fox News. When Bill O'Reilly was ousted from the network earlier this month over a sexual harassment scandal, his acolyte Jesse Watters was promoted to a hosting gig on the prime-time panel show The Five. It's on that show that Watters made his recent Ivanka Trump comments.
The clip was shared by New York magazine contributor Yashar Ali, and then by New York Times writer Maggie Haberman—the reactions have been those of outrage, although not of much surprise.
@yashar How is he a thing? Is he 12? Does he acknowledge every time someone says "69", too?

— Paul Sporer (@sporer) April 26, 2017
@maggieNYT The details are foggy, but wasn't someone recently fired from multiple sexual harassment accusations??? I just can't put my finger on it
🙄🔫

— Eric C-G (@E11JAM) April 26, 2017
Bill O'Reilly must be so proud.