For many TV obsessives (such as myself) who had Friends instead of friends, the holiday of Thanksgiving is synonymous with classic television.
In the spirit of Thanksgiving, instead of ranking the festive Friends installments, let's go around the circle and say what's great about all 10 of Friends's Turkey Day episodes. Here's a refresher on all of their virtues to help you binge accordingly:
http://giphy.com/gifs/friends-tv-vGh4Eh4eLxMeQ
Season 1: "The One Where Underdog Gets Away"
Why I'm thankful: While this episode isn't particularly memorable when it comes to the full canon, it nails down the thesis of the show. As a coaster I once saw reads, "Friends are the family you chose for yourself." This episode was the one where the pals became a chosen family after shenanigans kept them from their original plans. Plus, Joey as the face of syphilis.
Best quote:
Season 2: "The One with the List"
Why I'm thankful: While the least Thanksgiving-y of the Thanksgiving episodes, this episode is a turning point in Ross and Rachel's relationship. That makes it pretty important in the show's 10-year arc, even though it has a sad ending with Rachel and Ross not getting together just yet.
Best quote:
COME ON!
Season 3: "The One with the Football"
Why I'm thankful: Seeing the friends out in a place that wasn't their apartments or Central Perk is exciting and novel, like seeing your teacher out of school. The episode has everyone on their best, weirdest behavior: The Gellers kooky and competitive, Chandler at peak sarcastic and sad. Plus, the gang is together for the full episode.
Best quote:
Season 4: "The One with Chandler in a Box"
Why I'm thankful: This episode introduced to the world one of the best, non-torture methods of punishment in The Box. A great way to both think about what you've done and prove that you care.
Best quote:
Season 5: "The One with All the Thanksgivings"
Why I'm thankful: I cannot overstate how iconic these 23 minutes are. The turkey head dance. "More turkey, Mr. Chandler?" Ross and Chandler in Miami Vice mode. Sir Limps-a-lot. The carrot toe. "You're so great! I love you."
Best quote:
Season 6: "The One Where Ross Got High"
Why I'm thankful: Jack and Judy Geller are an absolute delight and Chandler's charm offensive is peak Chandler. Plus, Rachel's trifle is more than trifling.
Best quote:
You gotta watch it. As Judy says, it's a lot of information in 30 seconds.
Season 7: "The One Where Chandler Doesn't Like Dogs"
Why I'm thankful: A Chandler-ful episode is a great episode. Plus, the season seven bob is among Jennifer Aniston's best haircuts, and Ross's obsession with naming all 50 states is a good geography refresher. Oh, and there's a cute dog! What could be better? (Brad Pitt, but he's in the next one.)
Best quote:
Season 8: "The One with the Rumor"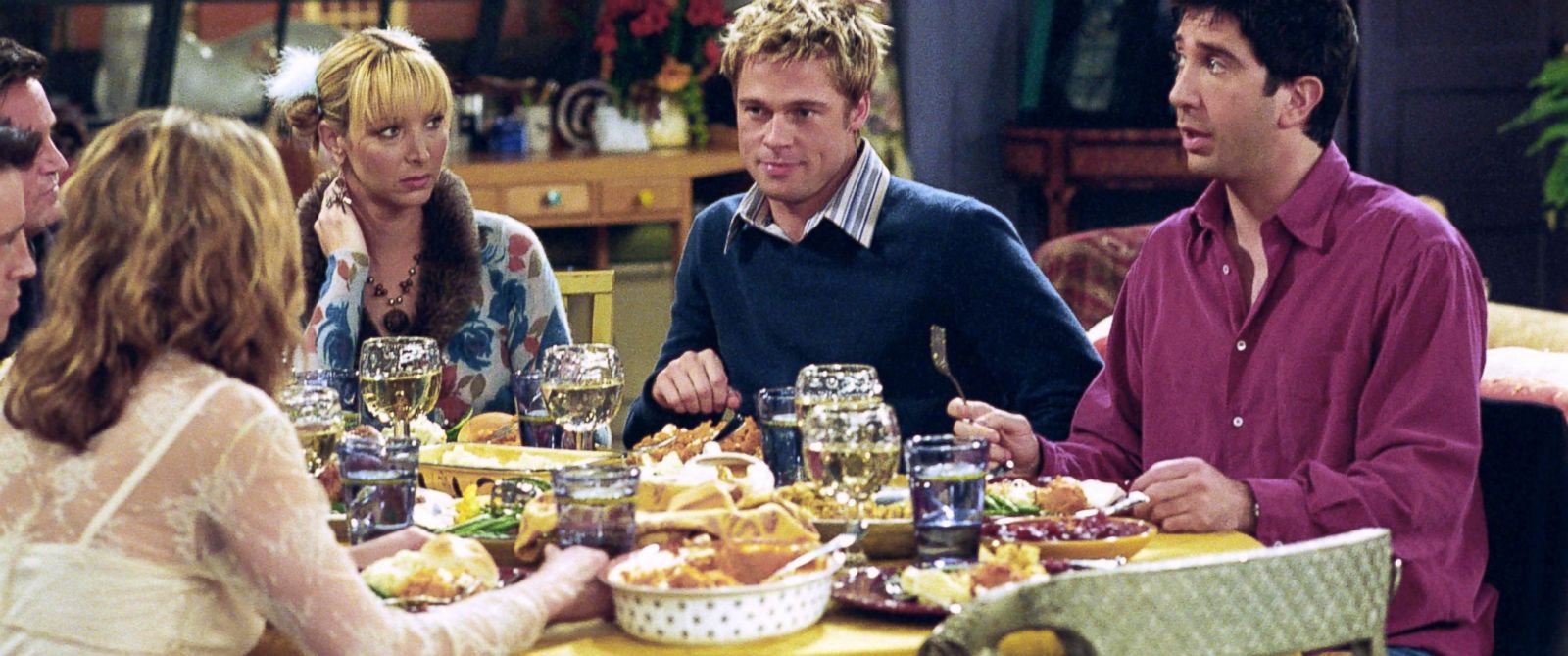 Why I'm thankful: This episode brought us Joey in the maternity pants, "Here come the meat sweats," and Chandler and Phoebe's brilliant "pretend to be into football so you don't have to help with dinner" technique. Brad Pitt was nominated for an Emmy for his appearance as Will Colbert, a high school friend of Ross and Rachel's. I hate to say it, but this episode has only gotten funnier now that Pitt and Jennifer Aniston are divorced.
Best quote:
Season 9: "The One with Rachel's Other Sister"
Why I'm thankful: Christina Applegate is one of Friends' best guest stars. The "Who gets the baby if you die?" game is a dark fantasy perfectly played.
Best quote:
Season 10: "The One with the Late Thanksgiving"
Why I'm thankful: Aware that this is The Last One, "Late Thanksgiving" combines hilarious bickering with the tear-jerking announcement that Chandler and Monica are getting a baby (or two!). It also introduces the best made-up game since "Cups" (Season 6, "The One on the Last Night" anyone?), Rock Paper Scissors Fire Water Balloon.
Best quote: