Did Friends, the seminal sitcom about six 20-somethings in a coffee shop, set in motion the decline Western civilization? To many, Friends means laughs, but to writer David Hopkins, Friends means the stupefaction of a society once revered as morally aligned and intellectually robust.
David Hopkins laid out his theory in an essay on Medium, and could he be any more correct? So, no one told you life was gonna be this way.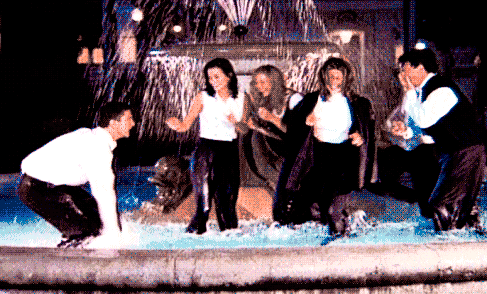 Hopkins opens the essay broadly, introducing this unexpected twist:
I want to discuss a popular TV show my wife and I have been binge-watching on Netflix. It's the story of a family man, a man of science, a genius who fell in with the wrong crowd. He slowly descends into madness and desperation, lead by his own egotism. With one mishap after another, he becomes a monster. I'm talking, of course, about Friends and its tragic hero, Ross Gellar.

You may see it as a comedy, but I cannot laugh with you. To me, Friends signals a harsh embrace of anti-intellectualism in America, where a gifted and intelligent man is persecuted by his idiot compatriots. And even if you see it from my point of view, it doesn't matter. The constant barrage of laughter from the live studio audience will remind us that our own reactions are unnecessary, redundant.
The fact that Ross's "friends" derided him for his intellectual curiosity sent a message to America to do the same, Hopkins claims. For 10 years, America watched Ross descend into madness and be forced to apologize for his "nerdy" ways, dumbing him down to the point that he had to end up with Rachel. 
After that match was complete, Americans abandoned all hope for a generation of Rosses, and committed themselves to being Joeys:
The show ended in 2004. The same year that Facebook began, the year that George W. Bush was re-elected to a second term, the year that reality television became a dominant force in pop culture, with American Idol starting an eight-year reign of terror as the No. 1 show in the U.S., the same year that Paris Hilton started her own "lifestyle brand" and released an autobiography. And Joey Tribbiani got a spin-off TV show. The year 2004 was when we completely gave up and embraced stupidity as a value. Just ask Green Day; their album American Idiot was released in 2004, and it won the Grammy for Best Rock Album. You can't get more timely. The rejection of Ross marked the moment when much of America groaned, mid-sentence, at the voice of reason.
When Central Perk closed, did the formerly great minds of the West close with it? Is this decline irreversible? Were Ross and Rachel on a break? 
To answer these questions, we must engage in a Socratic debate, a proud tradition in the BF (Before Friends) era. Perhaps on a scale of Rosses to Joeys, Western Civilization can regain both its intellectual rigor and its functional ignorance, thereby becoming nations of Chandlers. 
Read the rest of the case against Friends here.