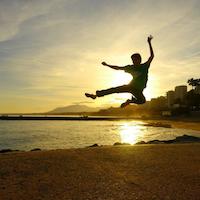 Filed by Mitchell Friedman

|

Jun 22, 2016 @ 4:19pm
Game of Thrones season 6 spoilers below, of course.
Iwan Rheon is now famous to Thrones fans as the despicable Ramsay Bolton (née Snow), but he originally auditioned for the part of Jon Snow. In real life, Rheon's has more in common with the show's protagonist than its most hated villain. Specifically, his ability (or lack thereof) to deceive. In an interview with BBC Radio 1, Rheon revealed the toll keeping friends and family spoilers-free took on him since he wrapped filming in December:
But it's a relief that I can now talk about it openly. I filmed the final scenes back in December - so I've been lying to everyone for six months. It's difficult because I'm not a very good liar.