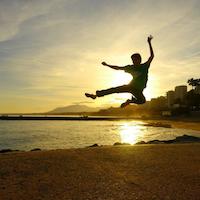 Filed by Mitchell Friedman

|

May 23, 2016 @ 10:30am
A Game of Thrones discussion forum in 2008 (before the HBO show's premiere, so more accurately an A Song of Ice and Fire discussion forum) popped an obvious question: "What does Hodor Mean?" Warning: spoilers. If you watched episode five of season six, you know that question finally got answered in 2016. But in 2008, a user named Myrddin gave it his best guess:
The poor guy is just asking someone to hold the door for him, since he's always carrying someone else around. After a while, "Hold the door" became "Hold the doorHold the doorHoldoorHodoor. Dammit! Hold the door!" His mind finally snapped, and now all he can say is Hodor.