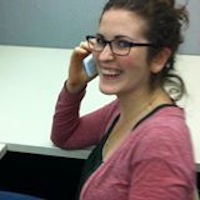 Filed by Shira Danan

|

Feb 12, 2015 @ 2:50pm
In 2025, who will be the new host of The Daily Show? Only time and this clip of Hot Tub Time Machine 2
will tell.
Every since Jon Stewart announced he's retiring from The Daily Show, everyone wants to know who his replacement will be. (My personal dream team is Samantha Bee and Jason Jones co-hosting, because how adorable would that be?)
Then, a missive came from The Future!
Hot Tub Time Machine 2 doesn't open until February 20, so Uproxx must have done some time traveling themselves to bring us this clip. In it, Rob Corddry (a former Daily Show correspondent himself), Craig Robinson, and Clark Duke go into the future and watch TV.
And guess who is the new host of The Daily Show in 2025? Current correspondent Jessica Williams. Nice choice, writers. Also, Neil Patrick Harris is president. Sounds like a blissful time.