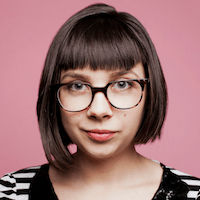 Filed by April Lavalle

|

Apr 19, 2017 @ 1:20pm
No matter what you do, confidence is key.
Just ask this Jeopardy! contestant who gave the wrong answer so confidently, you may have been convinced that he was right for a hot second.
Sure, this little clip may not be everyone's sense of humor, but Twitter effectively fell in love with "confident Kevin," who, by the way, didn't even bother to answer in the form of a question.
This guy's got chutzpah!
@realdaveimboden That guy cracked me up. He would give the worst, wrongest answers, but always with the veracity of one who knows them to be true. #hotgun

— Carpenter's Daughter (@CarpntrsDaught) April 18, 2017
No really, dude don't GAF.
Thanks for inspiring us to be strong even when wrong today, Kevin. You're a real 'hot gun' in our books.