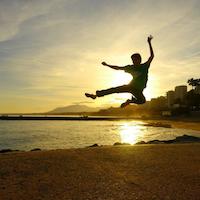 Filed by Mitchell Friedman

|

Sep 16, 2016 @ 8:12am
When it's time to interview Donald Trump, Jimmy Fallon does not stray from his fun-loving, yuck-it-up persona. Instead of spending the entire visit grilling the candidate about any number of his racist moments, Fallon tousled his hair.
"The next time I see you, you could be the president of the United States," said Fallon, without his head exploding at the prospect. "I wanted to know if there's something we can do…"