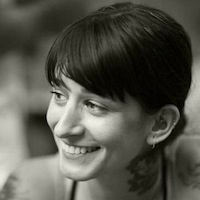 Filed by Jessie Dean Altman

|

Feb 12, 2016 @ 8:50am
Last night, Peyton Manning stopped by The Tonight Show to talk with Jimmy Fallon about the Super Bowl. No, hang on, sorry—that was Wednesday night. Last night, it was Kristen Wiig, dressed in a Broncos uniform and doing a spot-on Manning impression where she talked a bit about football, Maroon 5, the color "greenish," and attending the University of Florida as an environmental science major.
Their hilarious improvised conversation, during which Fallon unsurprisingly barely manages to keep it together, is great, but Wiig's talents really shone at the end of the segment, when she threw a golden football through a tiny hole to score the winning touchdown. That's how that works, right? Football? Anyway, she didn't actually get it in the hole, she missed by about three or four yards, but still, way to go, sport.