Meghan Trainor took a tumble Thursday night following following a glamorous performance of "Me Too" on The Tonight Show. Nothing quite like fallin' on Fallon. 
https://vine.co/v/i2dUwOwZV1e
Standing on those mini-stilts—known to men as "high heels"—can be tricky, and Trainor lost her balance, leading people on the Internet to lose their minds. 
Jimmy Fallon, ever the gentleman, lied down beside her so she'd feel a little less weird.
Fans tweeted at Trainor to make sure she was okay.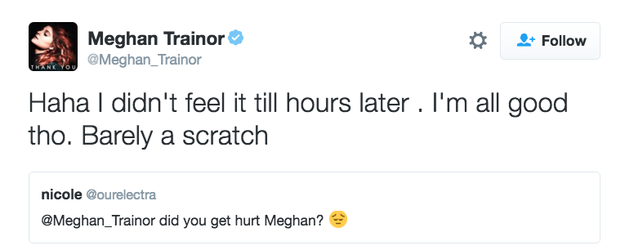 She assured her fans not to worry.

And was grateful for the concern.
Watch the whole performance, also known as "Prelude to a Fall," here:
https://www.youtube.com/watch?v=ewaQgopjitg
It's all about that face-plant.