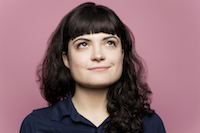 Filed by Jaime Lutz

|

Dec 17, 2015 @ 3:39pm
Netflix published instructions yesterday for making socks that sense when you fall asleep and immediately pause the show you're watching—perfect for the fan who's lazy enough to binge watch shows to the point of exhaustion but industrious enough to knit and program high-tech socks.
The socks work thanks to a device called an accelerometer that is very sensitive to motion. When you haven't moved in a while, it sends a signal to your TV to pause whatever show or movie you're watching. Don't worry if you normally aren't fidgety when you watch TV. "The accelerometer is very sensitive to little movements," Netflix says, "so it's good at detecting when you're just sitting still, raptly watching Netflix, and when you've actually fallen asleep.