Look, I get it. When the first commercials for this new show called Game of Thrones started airing on HBO, you looked at them and thought, "Blech! A bunch of elves running around dungeons, stabbing each other with magic swords. No thanks!" And then your co-worker (the one who wears his cell phone on his belt) told you that it's all based on a popular fantasy novel series, and you were like, "Even worse!"
But now, here we are three years later, and everyone—even people who aren't abject dorks—are talking about the evil king's murder and the dwarf's trial by combat, and curiosity is getting the best of you, so you're saying, "I give up, nerds! I'll watch your goddamn Dungeons & Dragons show!"
Only problem is you've got three-and-a-half seasons to get through before you can be caught up and watch the end of the season with the rest of the world. Can you really be expected to power through 37 hours before the next episode. You don't have to. Just watch the video above, in which one of the stars of the show, Peter Dinklage, tells an MTV reporter everything a new watcher needs to know in less than a minute.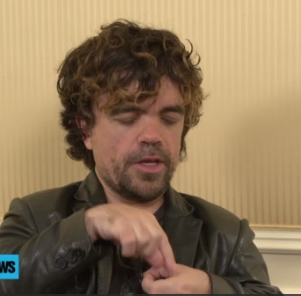 And that's what sex is, kids.
(by Dennis DiClaudio)