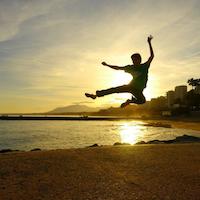 Filed by Mitchell Friedman

|

Jan 23, 2017 @ 8:47am
Piers Morgan is a television personality on the show Good Morning Britain, and he just loves to stir up controversy by saying really stupid stuff. It's usually hard to tell if he's being sincere, but the wrath he incurs is always heartfelt and furious.
After millions of people across all seven continents took to the streets on Saturday to participate in Women's Marches, Morgan sent out one of his patented Dumb Tweets.
I'm planning a 'Men's March' to protest at the creeping global emasculation of my gender by rabid feminists. Who's with me?

— Piers Morgan (@piersmorgan) January 21, 2017
Referring to the "global emasculation of my gender by rabid feminists" could hardly be more infuriating, especially considering many men attended these events—which have nothing to do with emasculating anyone and everything to do with equality and respect.
Anyway, Morgan's coworker on Good Morning Britain didn't love it either.
Neither did many celebrities and civilian tweeters alike:
@piersmorgan oh, possum. Sorry your masculinity is so fragile. Are you ok? Do your balls jus fall off when a woman doesn't smile at you?

— Upulie Divisekera (@upulie) January 21, 2017
Naturally, Morgan later implied that the whole thing was a joke. STOP EXPRESSING YOUR FEARS, PIERS.
UPDATE: I am cancelling my Men's March against male gender emasculation. My wife's banned me from going.

— Piers Morgan (@piersmorgan) January 21, 2017