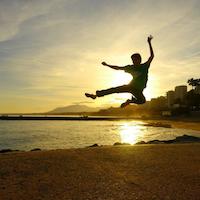 Filed by Mitchell Friedman

|

Jun 07, 2016 @ 1:59pm
Spoilers below. Do not read if you haven't seen season 6, episode 7 of Game of Thrones: "The Broken Man."
While Jon talks smack to wildlings and Davos connects with 10-year-olds, it's up to Sansa to send the Game of Thrones spam mail across Westeros. Thanks to the robust subreddit r/GameOfThrones, fans desperate to know what she was writing in Sunday's episode now have an answer. Using prodigious Photoshop skills, user CreepyPancakes figured out what Sansa was up to with that clandestine note.
By zooming in on the image, flipping it around, enhancing it, and finally relying on the help of Reddit's desperate Thrones-fiends to fill in the blanks, Creepypancakes deciphered the following message: