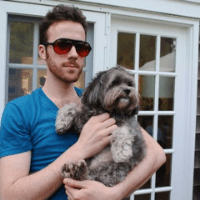 Filed by Miles Klee

|

Apr 23, 2017 @ 3:32pm
Fox News, the cable channel whose CEO and top-performing anchor were both ousted amid massive hush-money settlements and accusations of endless sexual harassment, may not be quite done clearing house. Sean Hannity—arguably the dumbest of the bunch, if his idiotic defenses of Donald Trump are any indication—apparently crossed a line with one of the channels women contributors, lawyer and columnist Debbie Schlussel.
@FallingOffEarth LOL to think that Hannity wasn't a sexist, misogynistic, sexual harasser is such foolish denial. The guy is a creep on every level.

— Aimee on the Left (@Aimee_Abq) April 23, 2017
Schlussel lobbed the charge during an interview on talk radio's Pat Campbell Show, saying, among other things, that Hannity tried to get her up to his hotel room after an event they both attended in Detroit. After she refused his advances, she was never invited back on his show.
"This kind of stuff is all over the place at Fox News and anything that has to do with Sean Hannity," Schlussel said.
Could this breaking scandal be part of the reason why Hannity went on a deranged Twitter rant blasting the New York Times this weekend? After all, the NYT did publish the major scoop about Bill O'Reilly that ultimately got him fired—so it would be in his interests to try and discredit them before they report a very similar Hannity story.
@nytimes Any conversation I have with ANYONE is supposed to be PRIVATE. I have NEVER talked to you. Was I surveilled and unmasked by u/NSA?

— Sean Hannity (@seanhannity) April 22, 2017
The @nytimes has no clue who I talk to as I refuse to EVER TALK TO THEM! @POTUS knows you are FAKE NEWS and I doubt he talks to u either.

— Sean Hannity (@seanhannity) April 22, 2017
"Several people close to him" Everyone knows people at every WH and every corp. have agendas and leak. Maybe a new standard. "On the record" https://t.co/xPLZpLLzy6

— Sean Hannity (@seanhannity) April 23, 2017
During the campaign I can CONFIRM I and & others suggested he stop tweeting. He never did. He is his own man. In retrospect I now agree. https://t.co/vxoNrCkZuX

— Sean Hannity (@seanhannity) April 23, 2017
It goes on, but you get the idea: Sean is mad that a newspaper busted his BFF for sexual harassment, and now he probably knows he's next. Stay tuned!