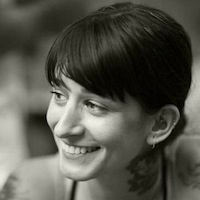 Filed by Jessie Dean Altman

|

Jul 12, 2016 @ 3:05pm
Every so often, a hero emerges, seemingly out of nowhere, to inspire us all. Sian Welby, weather presenter for England's 5 News, is one such hero. On July 11, she managed to fit 22 Ghostbusters references into a weather report just over one minute long. Slow clap.
While doing her job and giving the actual weather, she crams in the following words: slime, Parker, ray, stay puffed, don't cross the streams, if there's something strange in your neighborhood, Zuul, Gozer, Wiig, Feig, Weaver, protons, Holtzmann, ghosts, Murray, Abby, Ramis, Hemsworth, Leslie, bust, afraid, and answers the call. And she never gives the slightest inclination that she's doing it.