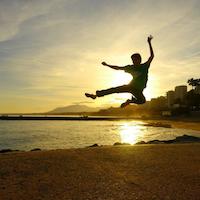 Filed by Mitchell Friedman

|

Dec 14, 2016 @ 8:20am
On Tuesday, Kanye West met with Donald Trump, providing serious news outlets with a distraction from Russian hacking and the late night hosts with plenty of fodder. "You can tell it's a high powered meeting because Kanye's wearing his formal sweat suit," quipped Colbert, before getting in on the whole "name that mixtape" game that erupted Tuesday on Twitter.
"The Deportation of Pablo," suggested Colbert, reflecting on the meeting of the "two most powerful American narcissists in the same room."
Get it? Donald Trump wants to deport Pablo.
Colbert then pivoted to Trump's latest cabinet selections. On secretary of state Rex Tillerson, he mused that "all gas stations are official US embassies" after the nomination of the ExxonMobil CEO.
Also, did you know that likely secretary of energy, Rick Perry, was on Dancing with the Stars?
If he really wanted to cut costs, Trump should have picked Jeb Bush. He's low energy.