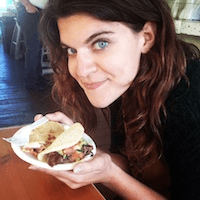 Filed by Kelsey Solywoda

|

Jul 25, 2016 @ 11:26am
It seems that everyone (myself included) is hooked on Netflix's newest horror series, Stranger Things. While it's true that the show is incredibly addicting, it's also true that it's terrifying and I'm going to have nightmares about it for weeks to come. Here are five reasons Stranger Things is scary AF.
1. It involves children.
If horror films have taught us anything, it's that every creepy story is scarier when there are kids are involved. Children with mind powers and people with guns coming after them, no less. Remember the twins from The Shining? Or the girl from The Ring? Children are terrifying.
2. There's a spooky board game.
How many times did you get freaked out playing with Ouija boards as a kid? What about the movie Jumanji? Robin Williams got trapped in Jumanji for 26 years! The board game in Stranger Things has creepy dragon and wizard pieces. The kids freaked out at the beginning of the first episode because they didn't finish their turn. I'm telling you, nothing good is going to come of this.