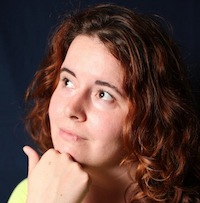 Filed by Aimee Lutkin

|

Oct 28, 2015 @ 10:37am
In the clip below you'll see two television co-hosts of the Mexican program A Toda Maquina (On All Cylinders) have a bit of an altercation, but it may not be what it seems. In it, Tania Reza is wearing a gold necklace that her co-host Enrique Tovar inexplicably comes over to fondle, and then...he lingers. On her boobies.
After Tania is like, "I can't work like this!" Enrique adds insult to injury by apologizing for her and saying she's hormonal. It's like a textbook conversation between a violated woman and misogynist. Almost too textbook. After the clip went viral in Mexico, sparking outrage towards Enrique and the show, the two co-hosts came forward and confessed the whole thing was staged.