Live from New York... It's TGS with Tracy Jordan!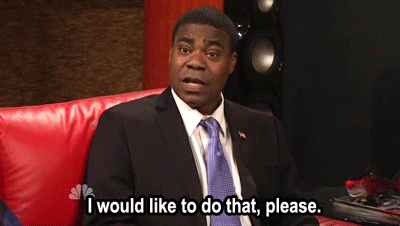 It was announced on Monday that Tracy Morgan will be hosting Saturday Night Live on October 17th. This is his first return to comedy after the tragic car accident in June 2014 that killed his friend, fellow comedian James McNair, and left him horribly injured. 
Morgan is excited as we are that he is returning to Studio 8H:
He's previously discussed on CNN how he was focusing on healing and planning on returning to comedy as soon as he could:
We are so glad that he is better, and can't wait to have him back. To celebrate his upcoming return, here are his best moments 30 Rock that get you even more excited to see Tracy Morgan/Jordan again.
1. When he put life into perspective:
2. When he backed it up:
3. When he came up with the best app:
4. When he had this brilliant advice:
5. When he made this party hit:
6. When he took a nap so long we were forced to call it "epic":
7. When he and Jenna were The Problem Solvers:
8. When he played his ancestor Thomas Jefferson:
9. When he was a Jedi:
10. When he had the best alternative to saying "I told you so":
11. When he made this offer you can't refuse:
Welcome back, Tracy. Can't wait to see you soon.
(All GIFs via Giphy.)