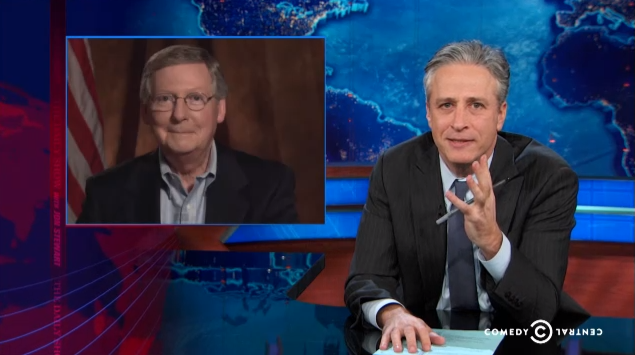 Best comedy team of the year.
The Daily Show is usually funny, often inspired, but only once in great while magical. Last night was one of those magic nights. Oddly enough, Jon Stewart and his writing staff deserve only partial credit. The real hero here is whatever genius Sen. Mitch McConnell hired to run his 2014 campaign's marketing team. That mysterious man or woman—the one who decided to pour resources into a wordless, two-and-a-half minute music video of the Senate Minority Leader smiling like a cult leader—deserves a golden statuette of Andy Kaufman. Let Stewart explain the details:

I wonder how many people are #McConnelling right at this very moment.
Here's Mitch McConnell's masterpiece ad in its full glory:

Fun fact: Every time McConnell smiles, an angel gets its bill through committee.
The Internet is already filling up with #McConnelling videos. I'm sure we'll be neck deep in the good senator's smiling face by the time The Daily Show returns from hiatus. Here's just a few...

Why, yes. It's always been you.

McConnellin' every night for you.

The feeling is mutural, Mr. Minority Leader.
(by Dennis DiClaudio)