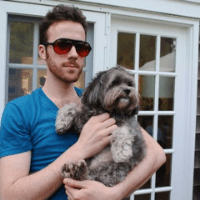 Filed by Miles Klee

|

Apr 08, 2017 @ 2:52pm
Tomi Lahren, the 24-year-old bottle blonde who says things your racist grandparents love for a living, is suing weepy, paranoid shut-in Glenn Beck for wrongful termination. She claims that he fired her because she expressed support for abortion, which is apparently a no-no at his conservative media company, The Blaze. If only there were someone to root for in this fight!
The lawsuit, according to the Dallas News, alleges that even after Lahren's show was canceled, The Blaze wanted to continue paying her, "presumably hoping they could find an exit strategy to sanitize their unlawful conduct." Her two-year employment contract was scheduled to run through Sept. 30. The Blaze contends that they haven't actually fired her (yet), and will probably win in court anyway.
In the meantime, everyone who hates both parties is breaking out the popcorn.
Glenn Beck vs Tomi Lahren. When you find out a person that criticized Colin Kapernick on his views lost their job due to their views: pic.twitter.com/WRZapbR4A0

— Dave Barabas (@Dave_Barabas) April 8, 2017
Tomi Lahren is suing Glenn Beck because he smeared her over saying she was pro-choice. She is citing freedom of speech.

Colin Kaepernick: pic.twitter.com/ghsj5C8VNq

— Frederick Douglass (@HITEXECUTIVE) April 7, 2017
In the case of Glenn Beck vs Tomi Lahren...

Can both these horrible people lose?

— Tony Posnanski (@tonyposnanski) April 7, 2017
👩🏼 Toni Lahren: #BlackLivesMatter is hate group
👱🏻 Glenn Beck: You're fired
👩🏼: Y'all got my back, right?
Us: 🤷🏽‍♀️🤷🏾‍♀️🤷🏻‍♀️🤷🏽‍♂️🤷🏾‍♂️🤷🏿‍♂️

— Brianna Wu (@Spacekatgal) April 7, 2017
That all this comes at the same time as leaks about the ongoing feud between President Trump's son-in-law Jared Kushner and alt-right advisor Steve Bannon is almost too good to believe. There's blood in the water, baby.
Jared Kushner vs. Steve Bannon
Tomi Lahren vs. Glenn Beck
Paul Ryan vs. Freedom Caucus
SyriaHoaxers vs. Trump
InfoWars vs. Sanity pic.twitter.com/qJxGu4dXuP

— Anthony Breznican (@Breznican) April 7, 2017
Bannon vs. Kushner
Tomi Lahren vs Glenn Beck
Lately all the feuds have been between people I'd both like to see lose

— Pie (@milkpiefridays) April 7, 2017
According to a White House insider, Kushner's attacks on Bannon have intensified. "The other day, he threatened to pour salt on him."

— Patrick Monahan (@pattymo) April 7, 2017
Bannon v Kushner is a lot like Batman v Superman. They both suck and I want Wonder Woman to win.

— OhNoSheTwitnt (@OhNoSheTwitnt) April 8, 2017
In the war between Bannon and Kushner, I'm rooting for Trump to be arrested for treason.

— Michael Ian Black (@michaelianblack) April 8, 2017
Can't we all just get along? Apparently not when everyone is a megalomaniacal moron.