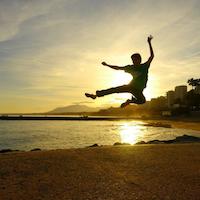 Filed by Mitchell Friedman

|

Mar 02, 2016 @ 9:38am
Whoopi Goldberg said she'd leave the country if Trump got elected, Trump's sons said she should leave, and now she refuses to go anywhere. Whoopi Goldberg versus the sons of Donald Trump: It's the political battle of the millennium that no one anticipated, no one asked for, and no one thinks will change anything in the political consciousness. But if clever people were talking about it, they'd be saying "big whoop."