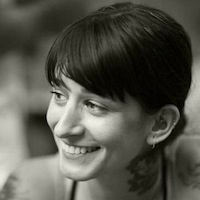 Filed by Jessie Dean Altman

|

Nov 14, 2016 @ 8:43am
During Sunday night's episode of 60 Minutes, Lesley Stahl interviewed President-elect Donald Trump (swallow rising bile) about the election and his plans for the future of America, i.e. "the Great-Makening." When Stahl addressed Trump about the numerous horrific attacks his supporters have been directing towards Muslims, black people, brown people, Jewish people, LGBTQ people (and pretty much everybody else), our future leader looked into the camera and told his devotees, "Stop it." Welp, that oughtta do it.
1.
Trump: Stop it
*Guy holding a flaming cross stops mid-stride*: Gee, Ive never looked at it that way before

— A Good Toilet (@ToiletMike) November 14, 2016
2.
It's funny how Trump suddenly thinks saying: "stop it" is effective, when it never worked for any of the women he assaulted. #60Minutes

— Angela Cobb (@angelacobb) November 14, 2016
3.
You say "stop it" when your kids play with their food, not when you've spurred violence,awakened hate, and divided a nation #60minutes

— Tennesha:DRL Podcast (@tenneshawood) November 14, 2016
4.
5.
Saying "stop it" to racist attacks means little when you name white supremacist darling Steve Bannon chief strategist in the very same day. https://t.co/BKuyA09VRA

— Evan McMullin (@Evan_McMullin) November 14, 2016
6.
He may as well have winked when he looked at the camera. "Stop it.: (wink jk) "In the good old days we used to treat them very rough." https://t.co/7pzV7VbPOk

— Shannon Manning (@shannonmanning) November 14, 2016
7.
BUT...Trump said, "Stop it," after being pressed & pressed to comment. Like a distracted parent saying "You kids cut it out" to Cain & Abel. https://t.co/oLomBla0Wd

— Alex Rubens (@atrubens) November 14, 2016
8.
9.
Finally sat down to watch the pre-recorded #60Minutes interview with President Trump. My favorite quote: "Stop it!" Obama, take notes. -VJ

— RealVinnieJames (@RealVinnieJames) November 14, 2016
10.